36″ Customize Balloon with Side Balloon Bouquet – Solid Colours
Get Funlah's 36″ Customize Balloon with side balloon bouquet – Solidl Colours and personalize the colours for any anniversary, 1st year birthday, baby shower, wedding or proposal. In addition, these can be a statement balloon suitable for any indoor photoshoot. Celebrate your event in style use your personalized balloons to make for some beautiful memories as guests capture your magical day. Hold them while taking photos to create an Instagram worthy picture!  Match with a side balloon bouquet or view our occasional bouquets for more ideas.
What's included?
Diameter of balloon: approx

50-60cm (diameter)

Balloon comes with helium inflation
Balloon comes with 1 matching tassel, string and balloon weight.
Please note that colour might be slightly different due to monitor setting
Customize your text is available on balloon
Floating Time:
36 inch latex Balloon: 1 to 2 days
12 inch Latex Balloons: 8 to 12 hours
Funlah ordering process
We will advise you to place the order with Funlah at least 3 working days prior to your event date. This will allow our team to have ample time to ensure your balloon is ready for your celebration. You may contact us for any urgent request.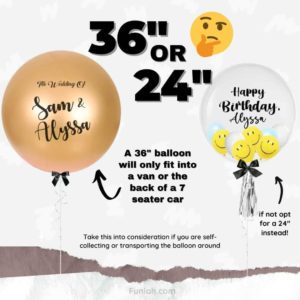 Disclaimer: Product photos are for illustrative purposes only. Actual colors may vary from the product photos, and may also vary from the PC/Mobile/Tablet's screen due to monitor color restrictions.