No idea how to decorate your precious abode for Halloween? Balloons make quite an impression and are fun to use for decorations for just about any occasion – Halloween included. With the spooky but fun holiday fast approaching, they are your best choice if you celebrate it this year but do not plan on spending a lot on the decorations. So, if you'd like to decorate your home without breaking the bank, here's a list of spooktacular Halloween balloon designs that will make decorating fun and exciting for the whole family!
1. Happy Halloween bunting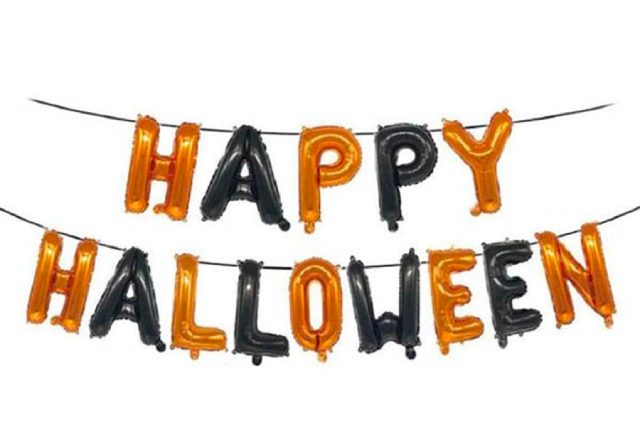 The Happy Halloween bunting is the perfect decor to help welcome your guests to the occasion – it adds that extra touch to any party without sacrificing the spookiness! What's more, the Halloween colours of orange and black on the balloons help to keep the decorations right on theme.
2. Spooky balloon bouquets
Creep it real with our collection of spooky Halloween balloon bouquets! If you're feeling creative and fun, you can personalise the texts and add your favourite Halloween puns.
Below are some of ours to consider:
Eat, drink, and be scary
Too cute to spook
Dying to have fun
If you've got it, haunt it
Love at first bite
Our Halloween bouquet of high-quality balloons will most definitely add a touch of cuteness to this fangtastic holiday!
3. Wicked awesome balloon garland
As a party backdrop, a spooky Halloween balloon garland is perfect for taking memorable pictures of the little ghosts and witches visiting your home on All Hallows' Eve.
We recommend using the classic Halloween orange, black and white colour scheme. You can also elevate the spookiness with spiderwebs, eyeballs and just about any scary thing your wicked little heart desires.
4. Trick-or-treat party favours
This fun and delicious concept is excellent as favours at your Halloween party or as a treat to share with your child's friends, classmates, or trick-or-treaters. These adorable treat-filled balloons are inexpensive, easy to assemble, and can be filled with sweets and small toys.
Similarly, an alternative idea is a Halloween balloon piñata. Simply fill any of our Halloween jumbo helium balloons with all kinds of sweet treats, and pop the balloon to let it rain candy. These are also great ideas to incorporate into children's birthday celebrations.
5. Tassel balloon ghosts
These boo-tiful do-it-yourself (DIY) decorations are just what you need to tie your Halloween theme together. Attach white, orange, and purple balloons on top of our party tassels, string them along the room and watch as they wow your guests and trick-or-treaters.
6. Too cute to spook faces
Ghosts and scary pumpkin faces are popular designs on white and orange balloons. If you want to try and do something different, you can use green balloons to make a Frankenstein face or purple balloons for different monster faces. You can add googly eyes to black balloons to create spiders or add a green nose to make witches.
Conclusion
With proper planning and the right balloon supplier in Singapore, like us at Funlah, you will be assured that you and your guests will have a fun and spooktacular Halloween party. If you don't know where to start or which decorations would suit your party needs, do not hesitate to contact us; we will be happy to assist!